---
Welcome to SCCHA.ORG

The Official Website of the
St. Clair County Housing Authority
---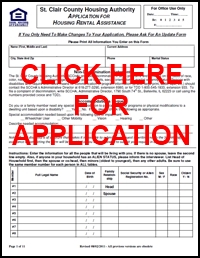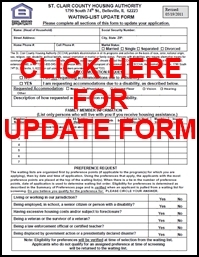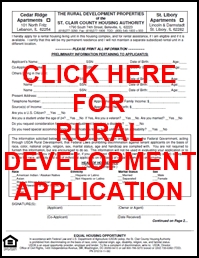 These are PDF documents. PDF documents can be viewed or printed with a PDF reader. PDF readers are special programs that will allow you to view them as they were originally formatted. Adobe Reader and Foxit are programs that will display PDFs. If your computer will not display the files above, install one of these. They are both FREE.
---
It is the mission of the St. Clair County Housing Authority (SCCHA) to provide well-maintained and safe, assisted housing to the eligible, low-income residents of St. Clair County, Illinois.
This site has been designed to provide you with the most up to date information about the services we provide and information about the authority.
The navigation bar on the left side of the screen will guide you around our site and as you see, it is self-explanatory. Applications and other forms are located by clicking Online Forms. To see if you are eligible for assistance, you may click on Eligibility. For information about our programs and descriptions of properties, click on Programs & Properties. Also, for a complete telephone listing of our organization, click on Contact SCCHA.
If you have any questions about our services, or require additional assistance, please contact us at sccha@sccha.org and we will contact you within 2 business days.
---
To Contact Us:
St. Clair County Housing Authority Phone:618-277-3290
1790 South 74th Street Fax:618-277-1806
Belleville, Il. 62223
---
Designed By: John Kilbury and Guy Mehochko © 2008 St. Clair County Housing Authority. All rights reserved.
Best viewed in Internet Explorer 7